Left to right: Hon. Oberuakpefe Afe (MHR), Rep. Sam Onuigbo(MHR and President, GLOBE Nigeria), Dr. Bolatito Obisesan mni (GEF OPF), Dr. Eugene Itua (GLOBE Nigeria Natural Capital Accounting Consultant), Mr. Rajab Abdulrahman (Special Assistant to the Minister of State for Budget and National Planning)
Nigeria's effort towards mainstreaming Natural Capital Accounting into her National Development Plans received a huge boost over the week as staff from Ministries, Departments and Agencies predominantly led by the Federal Ministry of Budget and National Planning, converged for a two-day training workshop on Natural Capital Accounting, organized by Global Legislators Organization for a Balanced Environment (GLOBE) Nigeria. 
The two-day training workshop tagged "Mainstreaming Natural Capital Accounting into Nigeria's National Development Plans", witnessed power-packed presentations from the likes of Marko Javorsek of the UN Statistics Division, Rafael Jiménez-Aybar of GLOBE International, Dr. Eugene Itua of Natural Eco Capital, Executive Secretary of the Gaborone Declaration for Sustainability in Africa(GDSA) Ruud Jansen, Mark Gough of Capitals Coalition, Bethel Ezugwu of Natural Eco Capital, Songitu Ekpe who is the Director(Scientific) at the Ministry of International Development Cooperation, Cross River State, Hadassah Benson of GLOBE Nigeria and Biodiversity Finance expert Dr. Jubril Adoejo, among others.
Speaking on the sidelines of the training, Mr. Aso Vakporaye, Acting Director for Economic Growth at Nigeria's Ministry of Budget and National Planning, said that the application of Natural Capital Accounting to the country's planning process is critical to attaining Nigeria's economic diversification goals.
Vakporaye, who said that paying attention to the stocks and flows of natural resources and services in a given ecosystem in the country will help the country diversify from an oil-based economy, stressed that doing so will ensure that "more income will be generated, [and the country] fulfill the aspect of food security."
"It is, therefore, important to provide detailed statistics for better management of these natural resources that contribute to economic development,'' Vakporaye stated. 
On his part, the National Coordinator of GLOBE Nigeria, Mr. Nnaemeka Oruh warned that Nigeria's "... economy cannot survive without the environment; what we have been doing is taking from the environment without curtailing the plundering of the environment."
He stressed that if Nigeria genuinely desires to make development plans that are sustainable, the country must embrace Natural Capital Accounting with both hands.
In their respective speeches, the President of GLOBE Nigeria, Rep. Sam Onuigbo and the Spokesperson of the Nigerian House of Representatives (who is also a member of GLOBE Nigeria), Hon. Benjamin Kalu, stressed that GLOBE Nigeria Legislators are committed and willing to provide all the legislative backing needed to ensure that Nigeria fully mainstreams Natural Capital. 
According to Rep. Onuigbo, "Hon. Afe [member of GLOBE Nigeria and member of Nigeria's House of Representatives] comes from a community that is badly ravaged by coastal erosion. This has affected livelihood matters. So he is passionate about issues that concern the environment. The same with so many of my colleagues. We are therefore fully committed to playing our part in ensuring that legal backing is provided for any initiative or action that will protect our environment and ensure that Nigeria makes sustainable development plans."
Spokesperson of the House of Representatives, Hon. Benjamin Kalu on his part said: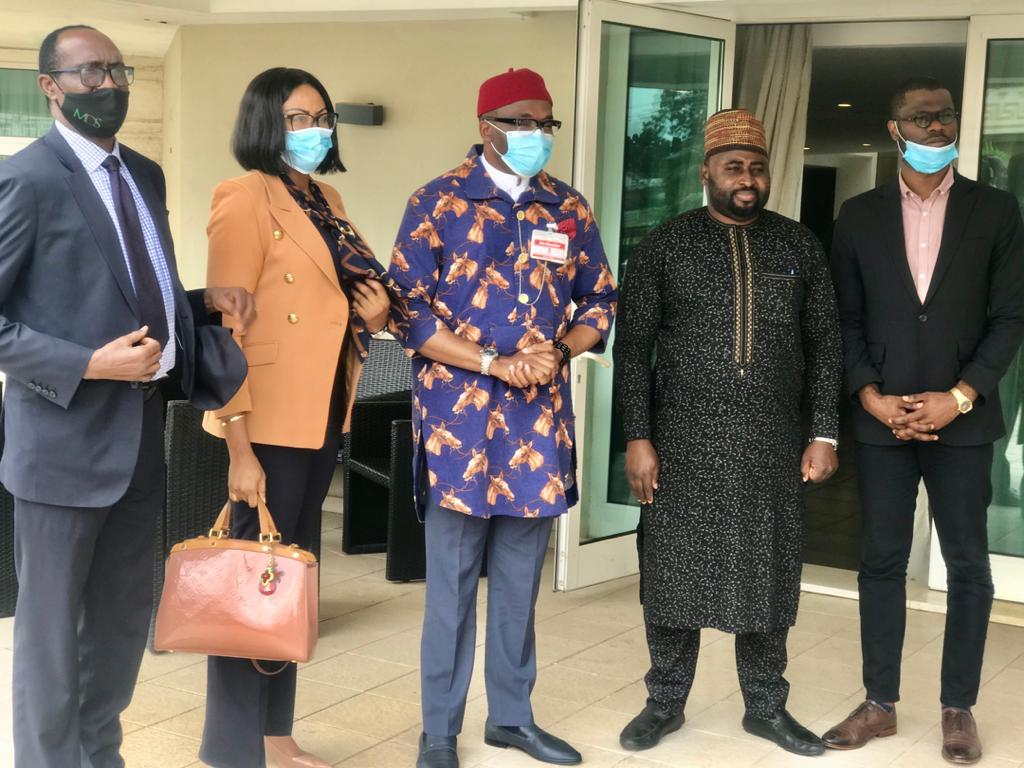 "I am assuring you that our legislative agenda concerning this will move beyond words to action. Let this go beyond discussions. We as GLOBE Legislators are offering ourselves as vehicles. Come up with recommendations and let us push it to the next level."
Nigeria's economy, which is largely dependent on crude oil, urgently needs diversification as the country tries to find its feet following the devastating effects of COVID-19. More so, it is estimated that over 65% of the country's population depend on agriculture for livelihood. 
Efforts towards ensuring that Natural Capital Accounting are mainstreamed into Nigeria's sustainable National Development Plans are part of the focus of GLOBE Nigeria's GEF6 project in Nigeria, tagged "GLOBE Legislators Advancing REDD+ and Natural Capital Governance towards the Delivery of the 2030 Agenda."
On the News