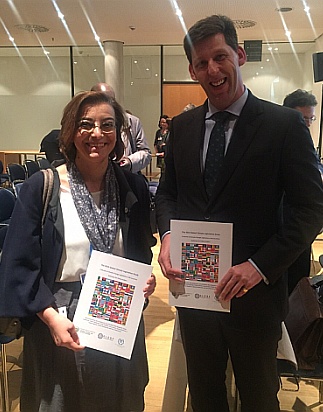 On 1st June the 2015 Global Climate Legislation Study was presented to delegates attending the UNFCCC Climate Change Conference in Bonn, Germany, by the Grantham Research Institute on Climate Change and the Environment (London School of Economics) with GLOBE International as a partner.
At the launch event GLOBE Members Stella Bianchi MP, President of GLOBE Italy, and Ian Duncan MEP (UK), Member of GLOBE at the European Parliament, pictured left, provided a legislators' response to the technical presentation.
The 2015 Global Climate Legislation Study study, led by Michal Nachmany and Sam Fankhauser, is the latest in the annual series initiated by GLOBE International and the Grantham Research Institute on Climate Change and the Environment of LSE in 2010. This year's report covers 98 countries plus the European Union, and it includes the Inter-Parliamentary Union (IPU) as a co-sponsor of the study. The closer cooperation between GLOBE and the Inter-Parliamentary Union (IPU) marks an effort to consolidate the work of parliamentary networks in the lead-up to COP21 in Paris.
The Study reveals that climate laws have doubled in number every five years since Kyoto, with three-quarters of world's annual emissions now covered by national targets. Graham Stuart's foreword to the Study notes that 2015 is a 'generational opportunity' for the sustainable development and climate change agenda. For this reason, GLOBE International is promoting a 'Coherence and Convergence' approach to the UN's four major summits on disaster risk, finance, sustainable development goals and climate change.
One pivotal area where legislators can make an immediate difference is in ratifying the Doha Amendment which establishes the 2nd commitment period of the Kyoto Protocol and was adopted in December 2012. Yet ratification lags far behind. Of the 144 'instruments of acceptance' required for the amendment to enter into force, less than a quarter have been submitted so far.
GLOBE International has included a call to its members in the 2015 Climate Study to seek ratification of the Doha amendment in their countries. This will send a clear signal to negotiators that they are 'Paris-ready' and the legislative progress noted in this year's study is set for further growth in 2016.
Graham Stuart, a Member of the UK Parliament and Chair of GLOBE International, said: 
"GLOBE International exists to bring parliamentarians together to address environmental challenges. This study captures the work of legislators around the world in building the legal frameworks which trigger investments that can lower emissions and drive down costs. The study allows cross-country comparison so that governments can be held to account for their response to climate risks. It builds on earlier editions by GLOBE and the Grantham Research Institute, and shows both the progress made and how much more needs to be done.
Commenting on the report, Malini Mehra, chief executive of GLOBE International said:
"Since Copenhagen in 2009, climate laws and policies have doubled from 426 to 804 in 2014. This shows solid momentum in the emerging global legislative architecture on climate change. Coverage is widening and there is no turning back. That is an important message we can confidently communicate to business, investors, and those looking for certainty. It also provides a good basis for COP21 in Paris, but the ambition level needs to be raised to close the emissions gap as demanded by the science. The national parliamentary reviews of the INDCs championed by GLOBE International are one way of securing this."
Consult the Study
The 2015 Global Climate Legislation Study can be downloaded from: http://www.lse.ac.uk/GranthamInstitute/publication/2015-global-climate-legislation-study/.
A Summary for Policymakers is available in English, French and Spanish.
Country profiles are available at: http://www.lse.ac.uk/GranthamInstitute/legislation/countries/
Key Findings from the 2015 Edition:
Collectively, the countries covered in this year's study account for 93 per cent of global greenhouse gas emissions, and include 46 of the world's top 50 emitting nations. The countries surveyed include 33 developed and 66 developing countries. A key finding of the study is that 75% of these emissions are now covered by national targets.
There were 804 climate laws and policies at the end of 2014, compared with 426 in 2009 at the time of the Copenhagen climate conference. In 1997, when the Kyoto Protocol was agreed, there were just 54 climate laws and policies - a doubling every five years.
Forty-seven countries, including the 28 Member States of the EU, have introduced carbon pricing through either a carbon tax or a cap-and-trade system.
Seventy-five countries plus the EU now have frameworks for limiting greenhouse gas emissions and 64 countries have frameworks for adapting to the impacts of climate change. However, only 37 countries have completed a fully comprehensive national climate change risk assessment.
53 countries, including the 28 Member States of the European Union, have national targets that set either absolute or relative limits on annual emissions of greenhouse gases across their economies.
There have been legislative reversals in Australia and Spain in 2014, with the former's repeal of its carbon tax and Clean Energy Package, and the latter's downward revision of subsidies for renewable energy.
On the upside, Finland and Denmark joined the small but growing club of countries, such as the United Kingdom and Mexico, which have adopted ambitious legally binding emissions reductions with science-led, long-term targets to 2050.
In order for a successful outcome in Paris in 2015 there is now extreme urgency to strengthen commitments, and for countries that have not yet passed climate change laws and/or regulations to do so.
For further information, please contact the GLOBE International secretariat at: secretariat@globelegislators.org or +44 (0)7417 466 636 ; or Sue Windebank at the Grantham Institute on +44 (0) 207 849 4624 or s.windebank@lse.ac.uk, or Ben Parfitt on +44 (0) 207 955 6425 or b.parfitt@lse.ac.uk