COP28 PARLIAMENTARY PAVILION
From COP28, GLOBE is marking a step-change in our presence at COPs by taking the decision to host the first-ever Parliamentary Pavilion at a COP, instead of the 2-day COP Legislators Summits we have held over the years.
Dowload here the COP28 Parliamentary Pavilion Calendar of Events. It will be updated daily.
DEBUT OF THE FIRST PARLIAMENTARY PAVILION
The Parliamentary Pavilion will offer greater sustained value over the two weeks of COP28, providing a designated gathering point for the world's parliamentarians attending COP. It will enable caucusing and networking, foster peer learning and exchange of good practice, with a view to more effectively impacting COP negotiations and outcomes.
The Parliamentary Pavilion is being organised as a service to the broader global parliamentary constituency as an initiative of GLOBE International with funding from the UK Government. The Parliamentary Pavilion is open to, and organised in partnership with, other parliamentary networks and organisations, to strengthen the parliamentary constituency at COP and beyond.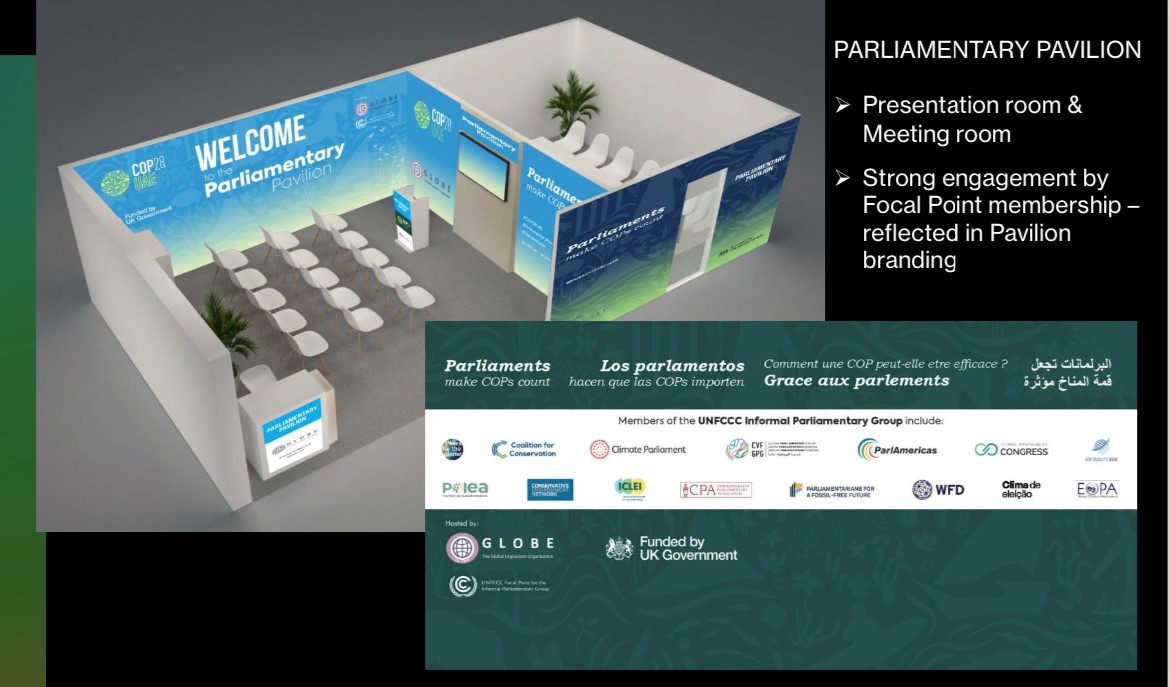 The 50m2 Pavilion will provide a presentation space – featuring approx. 50 events over the course of the two weeks – as well as offer a meeting room for bilaterals and private sessions for parliamentarians (see image, illustrative only). Events will be livestreamed and, where possible, GLOBE is encouraging parallel events to be held in national parliaments over the course of the two weeks, as with the Scottish Parliament.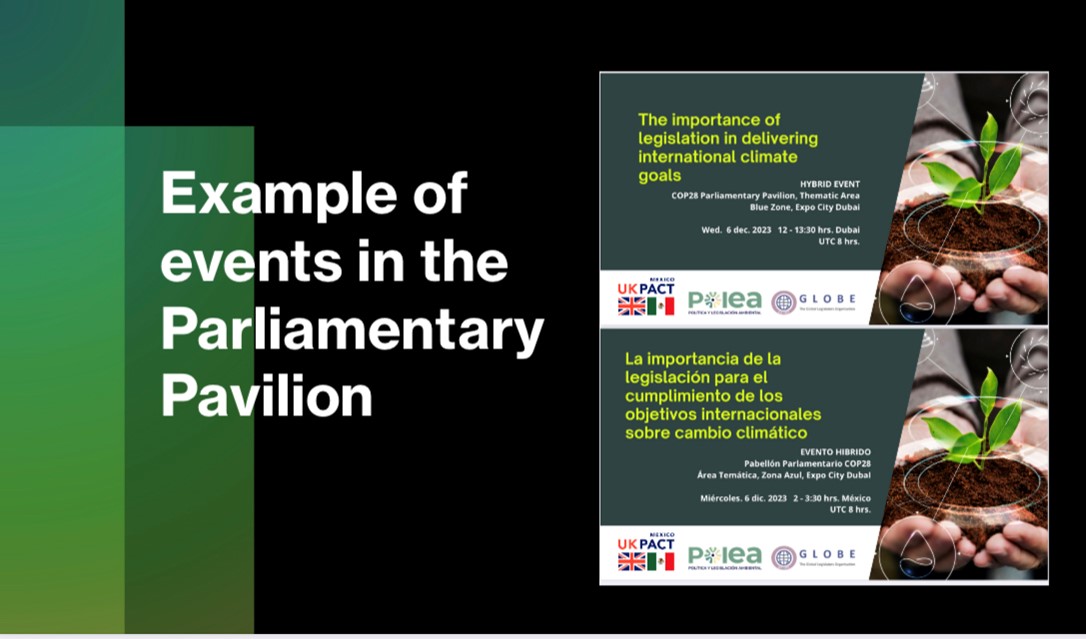 Parliaments are the constitutional backstops for accountability and must be involved in a more visible and effective way at COPs. The Pavilion is a means of bringing them together across party and political divides to build coherence and common agendas for delivery on commitments made at COP28.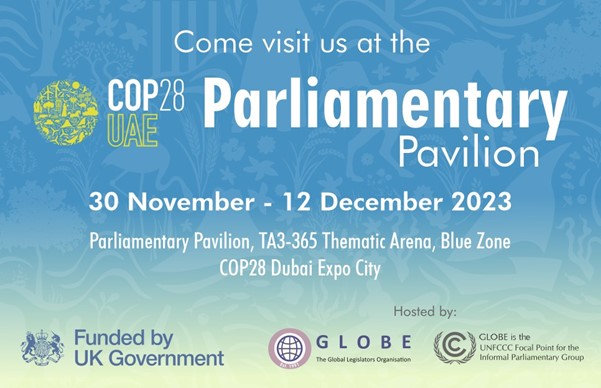 PAVILION LOCATION
The Parliamentary Pavilion will be situated in the Thematic Arena of the Blue Zone at COP28. The daily schedule is as follows and the detailed daily programme will be available from Monday 27 November onwards.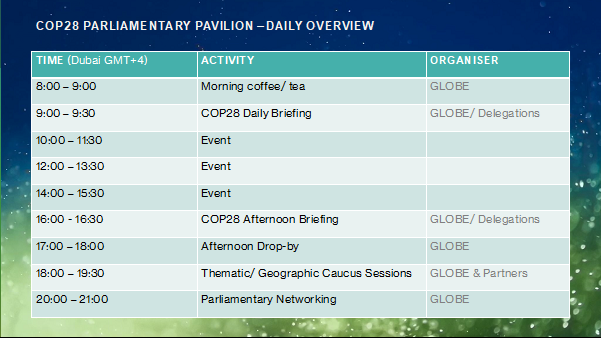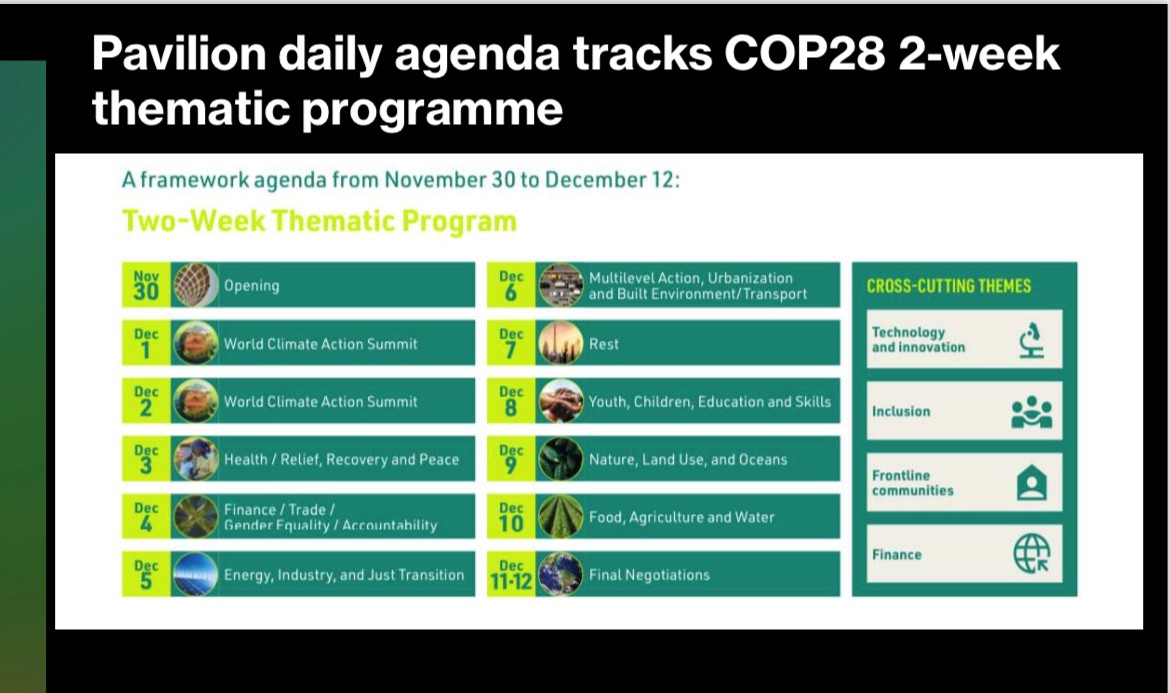 Sign up here to receive regular Parliamentary Pavilion Updates from COP28.
BOOKING THE PAVILION
If you would like to host or sponsor an event in the Parliamentary Pavilion, or book the Meeting Room (only available for parliamentarians), kindly contact us ASAP: <focalpoint@globelegislators.org>