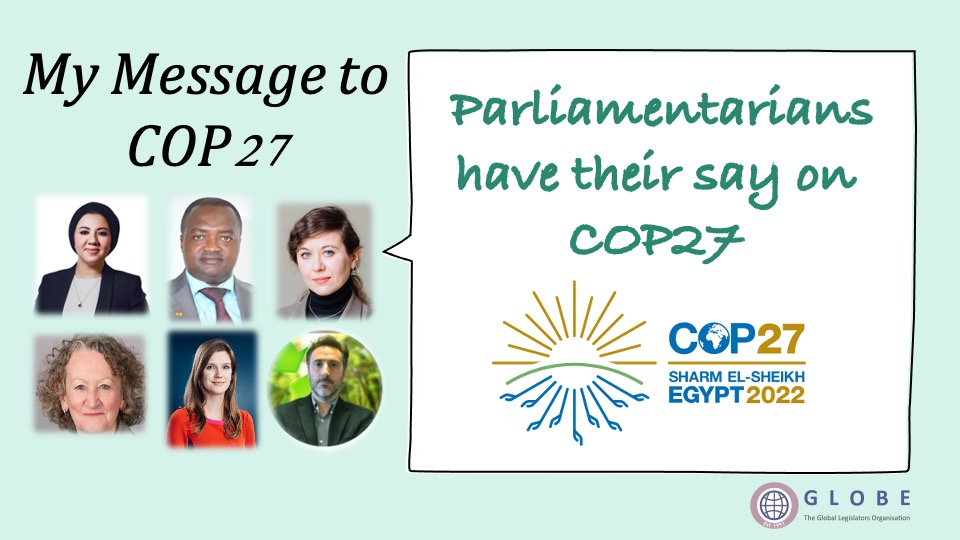 18th November - MY MESSAGE TO COP27
"An Ecocide Law would curb climate change"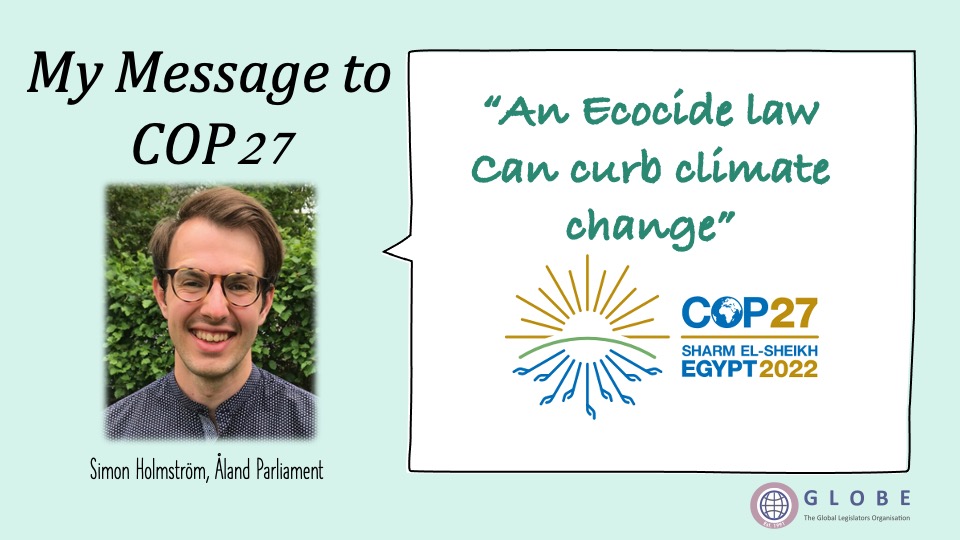 The loss of biodiversity continues at a furious pace. Ecosystems are razed to the ground, underwater environments are cleared and thousands of tons of carbon dioxide are released into the atmosphere. Often this large-scale destruction is already in breach of existing regulation. Yet, there is a missing piece in international and national environmental law.
Considering this spiralling ecological deterioration, it stands to reason that stronger international law is needed now more than ever. Since non-binding agreements without enforcement mechanisms have not produced sufficient results, new international legal norms are needed. It is in this light that the recognition of ecocide – large-scale environmental destruction – as an international crime has received increased attention.
In 2021, an international legal definition was drafted as follows:
"Ecocide" means unlawful or wanton acts committed with knowledge that there is a substantial likelihood of severe and either widespread or long-term damage to the environment being caused by those acts.
Introducing this definition of ecocide as a crime within the jurisdiction of the International Criminal Court (ICC) would practically mean that state or company leaders or other responsible persons who have caused serious environmental damage with long-term or far-reaching consequences could be sentenced to punishment. The main benefit of an ecocide law would be to set a minimum bar as a new global standard. The guiding principle of business operations would no longer be solely to maximise profits for their owners with nature as an infinite resource. However, it would be free to generate profit for the owners if an investment does not seriously destroy nature. This will provide a much needed steer for positive change.
An ecocide law would have a strong effect on curbing climate change. The knowing act of producing, proliferating and/or burning fossil fuels in ways that incur a severe and either widespread or long-term damage to the environment could potentially constitute ecocide, in the face of indisputable scientific evidence of its danger to humanity. Arguably, fossil fuel companies would not get loans or any other capital for fossil investments if financial institutions would be worried that the activity might prove illegal. In turn, with ecocide being a crime, governments would be encouraged to redirect subsidies for fossil fuels into renewable infrastructure, and insurance companies would be unlikely to underwrite potentially harmful projects. Thus, the benefit of criminalising ecocide would not just be to provide citizen movements with yet another legal tool to file lawsuits. Perhaps more importantly, simply the preventative effect of an ecocide law might set in motion a range of mechanisms conducive to a swift transition into a sustainable future.
Making ecocide a crime has been supported by a range of organisations and networks such as the International Corporate Governance Network, one of the world's leading investor networks, Global Youth, and the Interfaith network to name a few.
The issue is also being discussed in the parliaments of 20 countries and several governments have already been asked to act, such as in Denmark, Spain, Chile and Iceland. Also, a growing number of MP:s around the world on different levels have joined the Ecocide Alliance - an international parliamentary alliance for the recognition of ecocide, to which I proudly belong. We continuously amplify each other's initiatives and share experiences, which already has had an effect in parliaments and international organisations. For instance, together with some colleagues, I am currently driving the issue in the Nordic Council to ensure Nordic support for the inclusion of ecocide in the Rome Statute of the ICC, which will undergo a further investigation in the beginning of 2023.
In a world of rampant climate crisis and extinction of species, and with a mounting pressure from parliaments, governments, NGOs, business organisations and other world leaders, I am convinced that we are approaching a time when this law will be seen as simple common sense - indeed, as inevitable.
Simon Holmström is a Member of the Åland Parliament, the Nordic Council and the Ecocide Alliance
14th November - MY MESSAGE TO COP27
"We must walk the talk at COP27"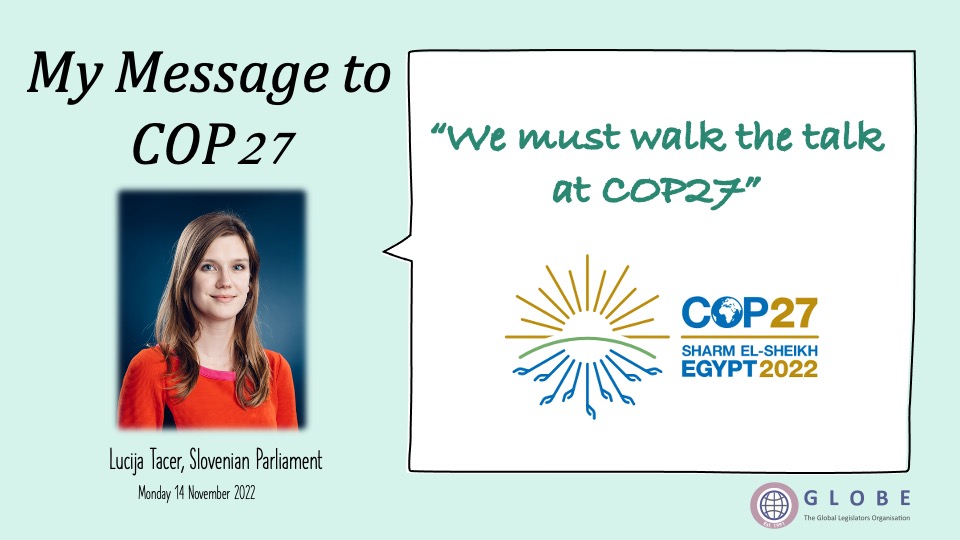 I am Lucija Tacer, the youngest female member of parliament in Slovenia. At COP27, I would like to draw attention to the idea of us, parliamentarians, serving as role models in addressing climate change. I believe that if we want to be credible in this regard, we must be more critical of our current practices on the international and national level and we need to be humbler also regarding our lifestyle.
So, in the next conference on the topic of climate change let us not have plastic water bottles, let us eat foods with a low carbon footprint (locally produced and mostly vegetarian), let us get to the conference location with sustainable transport or car sharing if driving is necessary, and let us collaborate with companies in the private sector that exhibit the sustainable policies we champion.
Legislation that sets more ambitious national contributions to realize the Paris Agreement targets is necessary, especially since we know that only fulfilling the currently set Nationally Determined Contributions in the best scenario will still leave us with a temperature increase of 2.1 to 2.4 Celsius. This is far from the ideal 1.5 Celsius increase since the preindustrial levels we agreed upon in 2015.
We must start with our own practices first if the people who elected us, and we represent, will see our efforts as legitimate. We must walk the talk. We can do better, and we need to be better role models.
We can start this today, when leaving the conference – not one by one in separate cars. Let's connect, collaborate, car-share and endeavor to gain the confidence of those we represent, and start taking action for a sustainable future.
Lucija Tacer is a Member of the National Assembly of the Republic of Slovenia. @lucija_tacer
12th November - MY MESSAGE TO COP27
"

We have to fix the political system to enable a green transition

."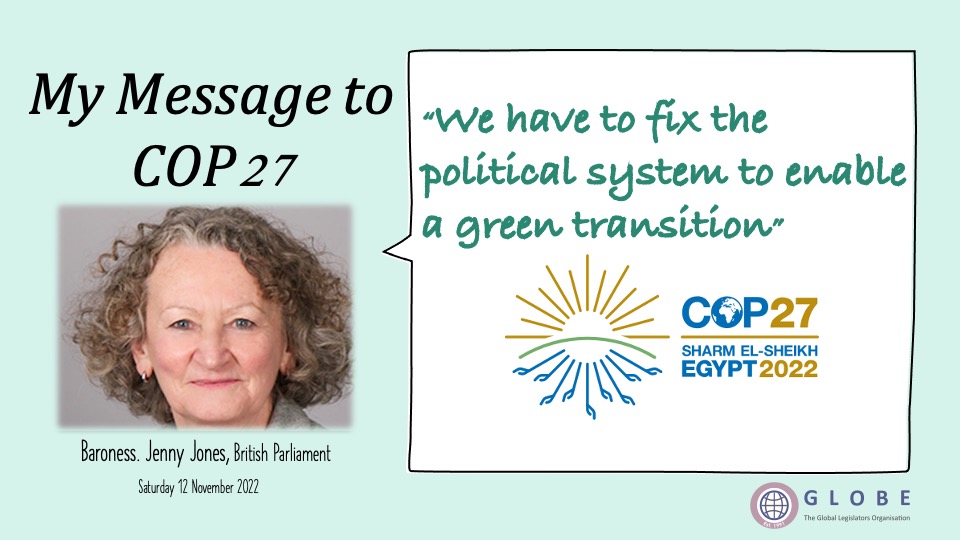 I can understand why many people around the world will be scratching their heads at UK Prime Minister Rishi Sunak's screeching U-turn over his attendance at COP27. In one year we have gone from Boris Johnson, as PM, putting out the welcome mat at COP26, to a country that is handing out new gas/oil licences and refusing to join the rest of Europe in urging the public to use less energy. While EU countries bring forward their medium-term targets for reducing reliance on fossil fuels, the UK government is not only off track for meeting its targets, but is actively doing what it can to inject new life into the oil/gas sector.
The first thing to understand is that the Conservative Party is split over the issue of climate change and a large group of MPs added to the internal pressure for the Prime Minister to attend COP27 and to allow King Charles to go. These MPs were side-lined during the Truss government and that came to a head with a vote over a ban on fracking, which was actually a manifesto commitment in the Conservative's landslide victory of 2019.
Truss made the green light for fracking a vote of confidence in herself as Prime Minister, but realised that large numbers would still abstain and openly split the party. She appeared to back pedal, resulting in chaotic and bullying scenes in Parliament. This was the final straw for many and she resigned.
The Truss government was clearly in the pockets of the oil/gas industry. It resisted a further windfall tax on oil/gas company excess profits, while initiating an Energy Prices Bill which allows Ministers to put a 100% tax on the excess profits made by established renewables. It handed out licences for oil/gas exploration in the North Sea, while wanting a ban on solar farms on agricultural land. It is no coincidence that the Conservative Party has received £1.5m in donations from the oil/gas sector since 2019 and senior members of both the Truss and Johnson Cabinet benefited from gas/oil donations to their election campaigns and "second job" incomes.
We live in a world that is rapidly accelerating towards economies powered by renewables. 2021 saw a 20% jump in the amount of solar installed and it looks as though that jumped by another 50% last year. The EU wants to have 45% of its energy from renewables by 2030 and in the USA the Inflation Reduction Act (IRA) aims to make green energy the default in many industries like electricity production, industry and transport.
All this should provide some optimism. By contrast, campaigners won a court case showing that the UK government's "pie in the sky plans" for a net zero strategy doesn't meet their legally-binding carbon budgets for reducing emissions.  
The solutions are all obvious and the technology easily available, but we will have to fix the political system to ensure they happen. 
The reason why an advanced economy like the UK is still building houses and new developments without solar panels, without the best energy conservation standards available, and without charging points or heat pumps, is because property tycoons account for around a fifth of donations to the Conservative Party. 
The reason that people buying new homes are energy bill payers, rather than net contributors to the grid, is because developers paid a toll of £891,000 to the Conservative Party in just the first quarter of 2021 alone.
The reason we are struggling to get a common-sense measure like charging points for electric vehicles as standard on new buildings, is because developers don't like it and they pay good money to ensure the Conservative Party listens to them more than it listens to climate scientists.
The UK Parliament should be spending time implementing a green new deal with investment in those industries that will reduce medium to long term energy costs and address the cost-of-living crisis.
Instead, we are again debating draconian legislation that clamp downs on the right to protest, especially those who are warning about the climate emergency and demanding action. 
Baroness Jenny Jones of Moulsecoomb, FSA is a British politician who served as Deputy Mayor of London from 2003 to 2004. A member of the Green Party of England and Wales, she was until September 2019 the sole Green Party member in the House of Lords. @GreenJennyJones
11th November - MY MESSAGE TO COP27
"The adaptation & resilience agenda needs to take centre stage at COP27 alongside mitigation

."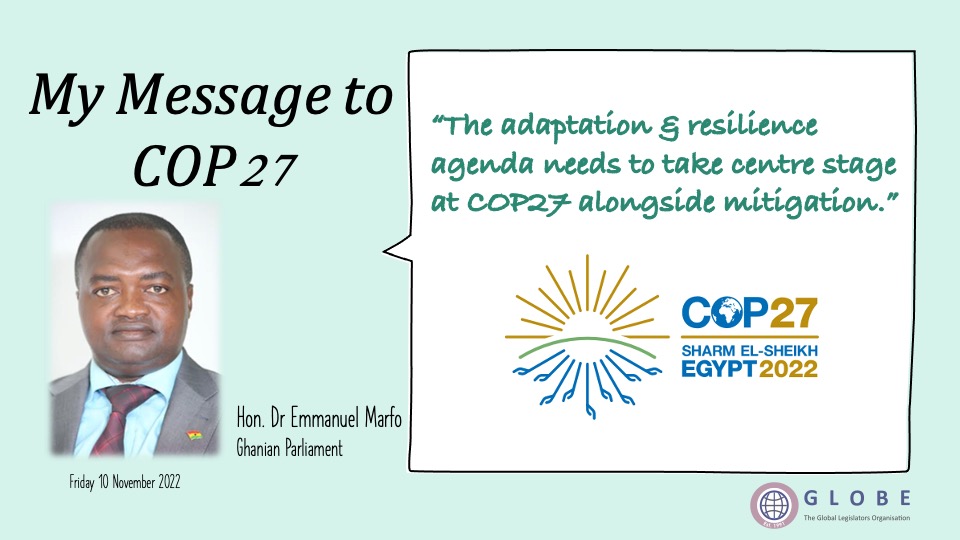 My Message to COP27 reiterates the call for climate action that we made in Kigali last month as a group of members of parliament of the Climate Vulnerable Forum (CVF) known as the CVF GPG, representing those countries most vulnerable to the adverse impacts of climate change.
The Intergovernmental Panel on Climate Change (IPCC) Sixth Assessment Report (AR6) signifies that warming and the impacts of climate change are accelerating faster than previously realised. It signals that without major transition to reduce greenhouse gas emissions, the world will be way off the mark in achieving the goal of keeping global warming to below 1.5 degrees Celsius and protecting the most vulnerable nations from climate disasters. Contributing to the growing loss and damage experienced by our communities due to insufficient finance and adaptation responses.
If carbon dioxide and other greenhouse gas emissions are not significantly reduced in the ensuing decades, the 1.5°C and 2°C global warming thresholds will be breached throughout the twenty-first century. To effectively prevent and adapt to the increasing overall hazards brought on by human-induced global warming, governments must step up their climate ambition and implement specific policies in response. We are devoted to achieving that objective as members of parliament.
The continuous burden arising from the impacts of the COVID-19 pandemic linked to the current crisis driven by conflict in Ukraine amidst a global climate emergency could cause major setbacks to our sustainable development and planetary prosperity.
Given the ongoing ineffectiveness of the current climate adaptation measures and the shortfalls in mitigation, ambition and finance that increasingly expose the most vulnerable to new threats, the adaptation and resilience agenda needs to take centre stage at COP27 alongside mitigation.
As a Member of Parliament of the Climate Vulnerable Forum (CVF) countries, I support the CVF priorities for COP27 and reiterate those key priorities as follows:
In line with the COP26 agreement to pursue renewed efforts to limit temperature increases to 1.5°C, I call on our counterparts in major emitting nations, whose 2030 NDC emissions reductions are not aligned with the 1.5°C goal, to strongly encourage their review and to ensure that these targets comply with 1.5°C in 2022. As posited by the CVF, I encourage that countries that are unable to align their NDCs to the 1.5°C goal through domestic action should make full use of the article 6 mechanisms of the Paris Agreement to ensure the 1.5°C goal is kept alive while enhancing finance, technology transfer, capacity building and global climate action through cooperation with developing countries particularly vulnerable to climate change.
Despite contributing least to climate change, we throughout the CVF membership are the most affected. The Global Goal on Adaptation (GGA) is a key component to the Paris Agreement's directing the world towards improving adaptive capacity, strengthening resilience, and reducing vulnerability to climate change.
At COP26 there was a response to the demands of the CVF on the balance in adaptation finance and the V20 Ministerial in April 2022 called for developed countries to come forward in 2022 with a standalone "Implementation Plan" for the realisation of the new pledge for a doubling in international finance for adaptation by 2025.
I encourage the promotion of delivery and follow-through on the doubling pledge including in the form of an Implementation Plan; and call for a standalone "Implementation Plan" to enhance transparency, predictability and accountability for the realisation of the COP26-agreed doubling in international finance for adaptation from developed countries by 2025; the full operationalization of the Global Goal on Adaptation (GGA) at COP27 needs to support the most vulnerable not only to survive but also to thrive.
Our communities are at the forefront of the climate emergency, often bearing the brunt of constant climate incidents that diminish our capacity to allocate already scarce resources to critical economic and development strategies including health care services, education, energy access and job creation. I therefore reiterate the call of the CVF for the establishment of a dedicated international funding commitment and mechanism for climate change loss and damage by responsible nations under the UNFCCC/Paris Agreement; and for the expansion of international dialogue and the knowledge base on climate change attributable loss and damage through the commissioning by COP27 of an IPCC Special Report on Loss and Damage.
The failure of developed countries to deliver on the annual $100 billion climate finance from 2009 to 2022 has had dire effects on the implementation of mitigation and adaptation measures. Meeting and exceeding the COP26 agreed Delivery Plan to make-up for shortcomings on the delivery of the annual $100 billion financing and the doubling of adaptation finance by 2025 would be crucial to the world's economic well-being.
I reiterate the notion that the delivery of climate finance in the New Collective Quantified Goal on Climate Finance (NCQC) should be needs based in terms of scale and volume, and responsive to the needs of most vulnerable developing countries, including by not increasing indebtedness and through a high and growing emphasis on grant-based funding for adaptation for developing countries particularly vulnerable to climate change. We call on developed countries to provide an update on the COP26 $100 billion Delivery Plan.
Hon. Dr Emmanuel Marfo is a member of the Ghanian Parliament; Chairperson of the Environment, Science and Technology Committee of the Parliament of Ghana; and Chairperson of the CVF Global Parliamentary Group (CVF GPG) @DrEKMarfo
10th November - MY MESSAGE TO COP27
 "

War in Ukraine is undoing decades of development and preventing climate action. The world must unite around established principles of ecocide and environmental protection in conflict."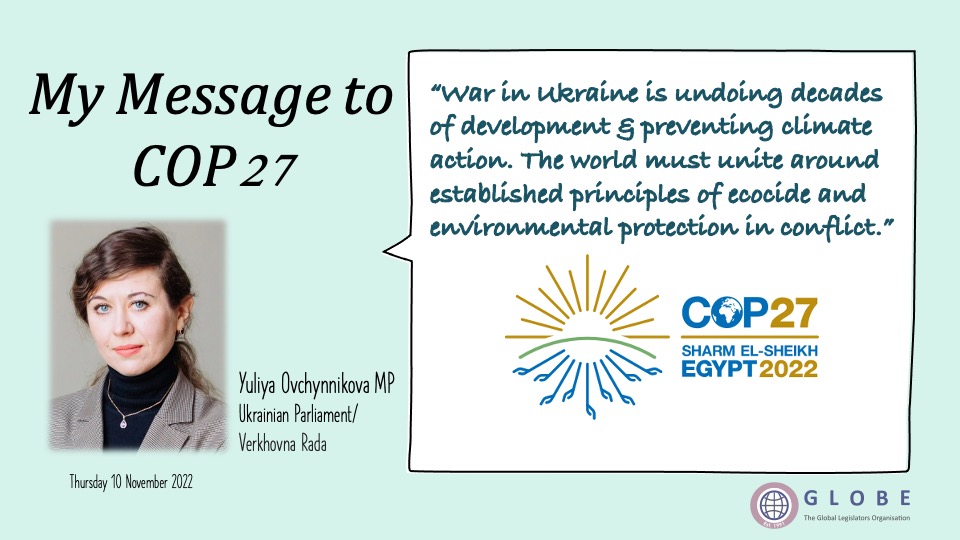 Firstly, let me thank our international partners, our brothers, for standing side by side with us in this terrible war. The war is not only an aggression against Ukraine only, it is also the biggest attack on democratic values and the global world community's civilizational achievements since the Second World War. Today, Ukraine defends Europe and the whole world from a tyrant who believes that he can blackmail the world with a nuclear catastrophe, that he has the right to manipulate food security, and is trying to turn the legal mechanisms in the direction he needs. But the world is not silent, but boldly says - enough is enough and stands on the side of truth, the side of law and values. Colonisations, annexations, and occupations have no place in the third millennium.
In this war, besides people, there is another witness - the silent witness and victim of the war - nature. Forests and birds that are burning, animals that are dying, water that is becoming poisonous, air that is becoming hellish, the earth is full of death... Right now, in the centre of Europe, not only the genocide of the Ukrainian people is taking place, but also the cynical ecocide of the Ukrainian land, which can affect each of you.
The Russian Federation, recognized by the Parliamentary Assembly of the Council of Europe as a terrorist regime, violates all possible international norms and international humanitarian law. In particular, the Geneva Conventions also in terms of the use of prohibited methods of warfare and prohibited weapons, and international agreements on environmental defence - the Rio Declaration on environmental protection issued at the Rio Earth Summit in 1992.
War causes huge damage to the environment. It is a crime against humanity and against nature. Where there is a war, it is difficult to talk about sustainable development or climate change, because the war pushes back decades of achievements in these areas.
The Rio Declaration emphasizes the negative impact of war on the environment: Principle 25 emphasizes that peace, development, and environmental protection are interrelated and inseparable; Principle 23 establishes the obligation to protect the environment and natural resources in situations of occupation or oppression; Principle 24, emphasizing the destructive impact of war on sustainable development, calls on states to respect international law, protect the environment during military conflicts and cooperate.
Does Russia adhere to these principles, which it signed? No. Do they ever comply with it? No. Were they ever prosecuted for it? No.
Th law enforcement agencies of Ukraine have initiated 74 criminal proceedings against the Russian Federation on offenses committed against the environment, which related to the invasion by the Russian Federation of Ukraine. Among them, under Article 441 of the Criminal Code of Ukraine (Ecocide) – 10 criminal proceedings; under Article 438 of the Criminal Code of Ukraine (violation of the laws and customs of war) – 61; under Article 437 of the Criminal Code of Ukraine (planning, preparation, initiation and waging of an aggressive war) – 1; under Article 113 of the Criminal Code of Ukraine (sabotage) - 3.
In numerous cases of the shelling of oil depots and industrial facilities by Russian troops throughout Ukraine, and attacks on nuclear energy facilities there are facts of environmental pollution with toxic substances, and heavy metals because of shelling, explosives, and other types of weapons, the destruction of flora and fauna, the destruction and damage of objects of nature, the impossibility of using land resources due to the presence of mines and other dangerous objects, threats to sources of water supply, etc.
A separate place among the negative consequences is devoted to mass fires in forests and steppes, which arise because of the attacks and leads to the destruction of entire ecosystems. All territories on which hostilities were or are being conducted, and which are under temporary occupation, are now potentially contaminated - this is about 160,000 square kilometers today. Explosive remnants of hostilities and anti-personnel mines laid by the enemy prevent the establishment of peaceful life in the liberated territories, the conduct of economic activities or the general recovery of the state's socio-economic status.
Therefore, today I call on my fellow parliamentarians from all countries of the world to unite around the principles of the Rio Declaration and focus efforts on the implementation of Principle 13, which deals with ecocide, the development of international environmental law in the field of protecting human rights to a healthy environment. I am calling today for world solidarity in the fight against the aggressor who commits crimes against humanity and nature every day.
The last thing I want to emphasize today is the principles of Ukraine's recovery. One of the principles of the reconstruction of Ukraine agreed upon in Lugano in July 2022 is sustainable development, therefore all decisions and projects regarding the reconstruction of Ukraine must be nature-oriented, and the term "nature-based solutions" will be introduced into Ukrainian legislation, by Resolution UNEP/EA.5 / Res. 5. This term is going to be introduced into the legislation at all levels and apply to all sectors of the economy and the functioning of society, and such approach will be in all strategic plans for the reconstruction of Ukraine.
Finally, I would like to emphasize this once again. The whole world - today we are all in the same boat of climate crisis and instability, and the more united and consolidated we are, the stronger the response will be to those members of the world community who rock our boat and drive it to the iceberg. Today, recovery programs are needed not only for the economy or infrastructure but also for the environment, nature, flora, fauna, land, water, and air - things that we cannot live without.
Yuliya Ovchynnikova is a Ukrainian scientist, ecologist and Member of the Ukrainian Parliament. She is also a Member of the Committee on the environmental policy and nature management of the Verkhovna Rada (Ukrainian Parliament) @YOvchynnykova
9th November - MY MESSAGE TO COP27
"COVID19 showed the value of Parliaments, now they must do the same on climate action"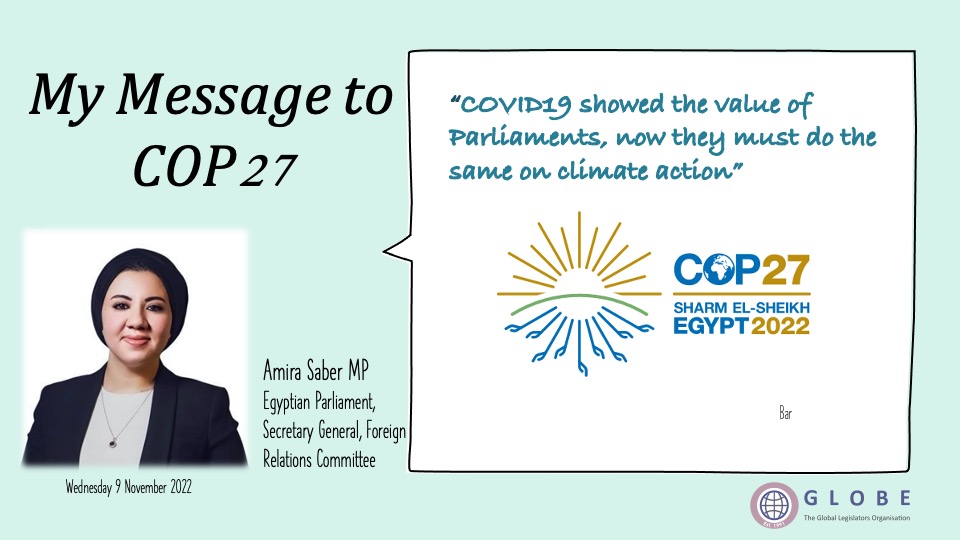 As we see COP27 unfolding, it is useful to be reminded that this international gathering is radically different that previous editions. For one, the world has perhaps seen no greater threats as it does today from food insecurity and economic instability resulting from recent geopolitical events in Europe to the ever-lasting impacts of Covid-19 on human lives, infrastructure and the economy.  
But the very choice of the host country of this year – Egypt, is also significant. Egypt represents Africa and a wide range of country who contributes slightly to greenhouse gas emissions, yet they are amongst the most vulnerable to and damaged by climate change. As devastating this fact remains, this presents a message of hope. For the very first time, the world did acknowledge – based on its experience with Covid-19, Russian war on Ukraine and climate change – that globalization is not merely about the transfer of ideas or goods and services, a sole individual act in one country affects millions in different country, rather generations to come and the very existence of our planet.   
Choosing Egypt to host the climate summit is also a testimony, albeit a shy one, from those responsible for destroying our nature and climate, that a balance needs to be resorted, and that debt should be paid sooner than later. Here, I am not inferring climate reparations or other innovative not-going-to-happen suggestions, but rather international cooperation and solidarity. The world has partially overcome the Covid challenge merely because the Global North have recognized that no one can be safe until we are all safe.
But there is a different reason why we were able to overcome Covid19. Science, for sure, but there is a reason of a different kind that was often overlook. I mean here the role of parliaments in the fight against the virus. Parliaments, worldwide, are unfortunately viewed negatively in the eyes of the general public. Member of Parliaments – me included, are often perceived as interest-maximizing, self-serving, rubber-stamping individuals who care less for the collective good.
Well, Covid19 challenged this view. Many parliaments of the world have responded promptly to the health crisis by allocating funds to the health sector and those in need, others have stopped against wannabe-authoritarian leaders who thought of the pandemic as an opportunity to augment more power by declaring never-ending state of emergency, and other parliaments have provided means of support for health care workers and the public at large.
Covid 19 has renewed trust in public institutions (including parliaments and local governments) and has, as emphasized earlier, brought the question of global solidarity back to the game in international politics.
Now with all eyes on COP 27, we should build on that momentum and on that spirit. We, as member of parliaments, should harness all our budgetary, representative, legislative and scrutiny tools to protect our planet as exactly what our people expects. World leaders should do no less.
There is no more time to lose and there is much more at stake at this point.
As this year is nearing completion, 2023 should be the time for implementation and accountability. I have started my very own small step by submitting to the Egyptian Parliament a draft law on climate adaptation, hoping that this would compel drastic transformations in Egypt's economy and would inspire more changes in the region and more cooperation in the near future.
Amira Saber MP is a Member of the Egyptian Parliament and Secretary General of the Foreign Relations Committee @amirasabersd
8th November - MY MESSAGE TO COP27
"Parliamentarians are the lynchpin in global climate governance"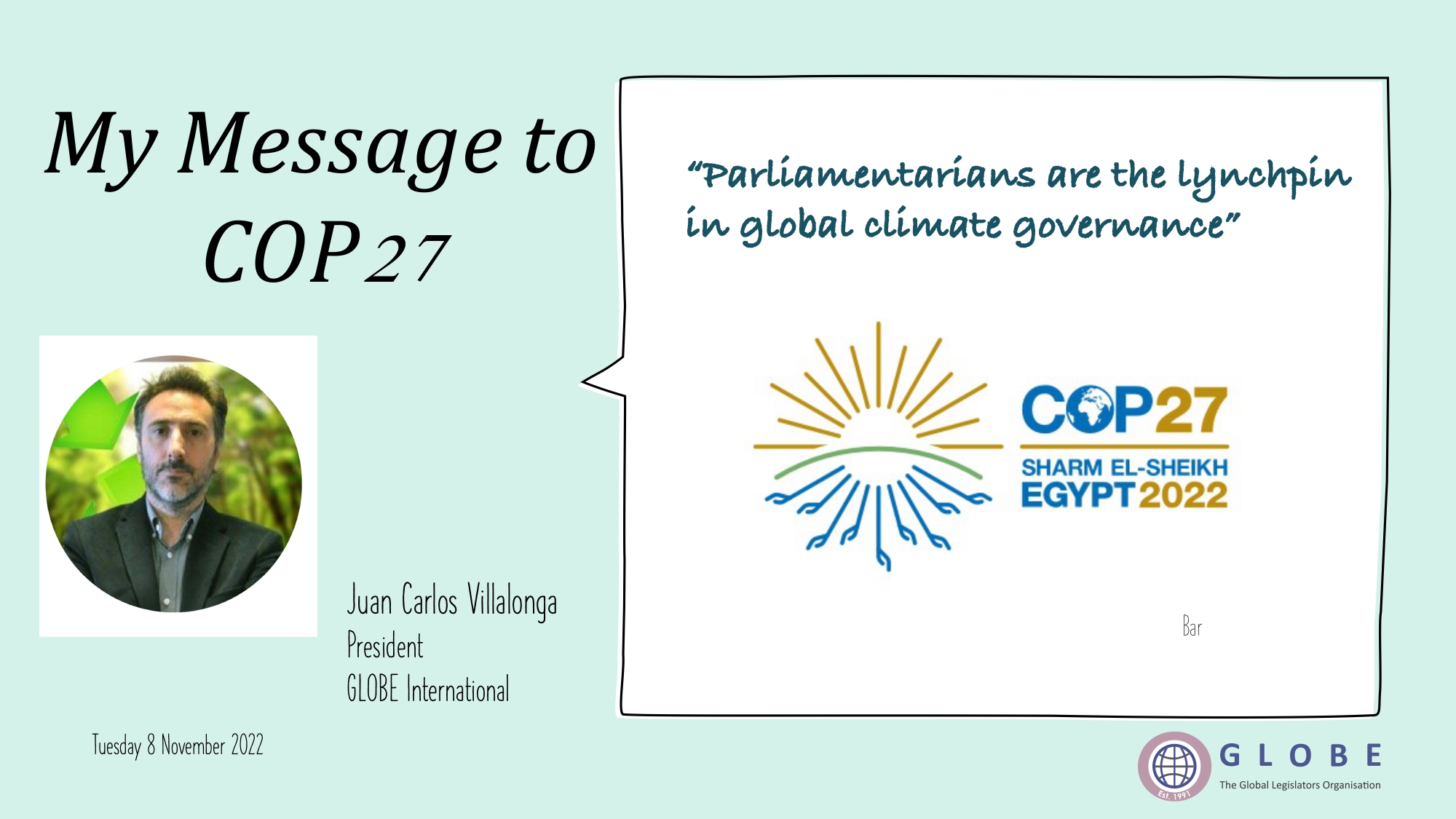 We come to this COP27 in an extremely complex international scenario: the war in Ukraine puts a veil of shadows and a hostile climate on international relations. On this occasion, the climate conference in Egypt will have to perform the double task of protecting multilateralism -preserve the value of international agreements- and, at the same time, take firm steps forward in global climate policy.
This Conference must protect the momentum achieved in Glasgow and its message must be clearer than ever: climate is our crucial challenge of these times. All our expectations for development and future projection as a society are being threatened by climate change. This is happening in every one of our regions, in every one of our countries, in every population.  
We as parliamentarians and legislators represent our people and we must ensure that the global threat of climate change is duly taken into account every time public budgets, infrastructure works, energy subsidies and ecosystem protection are approved in our legislatures and parliaments.
We need to be able to bring the objectives of the Paris Agreement to a very concrete instance of domestic public policy in our countries. We must be the link between what happens between one COP and the next. We must ensure proper parliamentary oversight of the implementation of the SDGs and climate targets; the energy transition strategy; the halting of deforestation; and the decarbonization of our economies.
Parliaments must be seen as a substantial part of global climate governance. We need to design good regulatory frameworks to accelerate the transition, monitor compliance with agreements and generate an extraordinary political consensus that will enable the transformations from a fossil to a green economy.
It is my hope that GLOBE can transmit this vision among the negotiators and the different bodies of action of the Convention, but we must also point out to national and regional parliamentarians the tremendous responsibility that is incumbent upon them. 
This is part of our task during these days at COP27 and in each of the instances of this extensive process within the framework of the global climate negotiations.
Deputy MC Juan Carlos Villalonga from Argentina is the President of GLOBE International. @Calivillalonga
7th November: MY MESSAGE TO COP27
"Why legislators matter and how we can be the golden thread between global commitments and domestic delivery"
As nations gather in Sharm El-Sheikh the involvement of legislators is crucial, as the decisions we make and the leadership we provide will be the golden thread between global commitments and domestic delivery of our shared climate goals.
Whilst the destination we are aiming for may be the same, the challenges we face as individual countries to respond to the climate crisis are not.
For countries like the UK, our focus today is on agreeing the most efficient path to decarbonising and adapting to climate change during a time of a worldwide economic crisis, whilst for others, it is about survival, and managing the consequences of the very real impacts of climate change today.
The need for finance solutions
I had the privilege over the past few weeks of meeting leaders from the global south who provided honest and sobering accounts of the impacts they are facing in their countries today, and the injustice rightly felt about why they are having to pay for the consequences of somebody else's carbon emissions.
The former President of the Maldives, Mohammed Nasheed, recently addressed a cross-party meeting in the UK parliament and told us how the costs of adaption in the Maldives has risen to 30% of government spending annually and a further 25% of income is spent on debt repayments – even though large parts of the public infrastructure this was used to fund has now been washed away.
Mr Nasheed called for legislators to use their influence to make progress on financing loss and damage, and for any financial solutions agreed to empower climate vulnerable nations to invest in the climate resilience solutions they are best placed to determine they need.
So what is the responsibility of developed nations?
First and foremost, developed nations need to get their own houses in order.
In the UK we have had legislation in place since 2008 that binds us to delivering net-zero emissions by 2050. Yet in 2022, we still do not have comprehensive, sectoral strategies, policies and timetables agreed to get us there, and committed parliamentarians are still having to expend great energy to ensure our international climate commitments are embedded in all our decision making.
Second, developed nations need to lift their heads above domestic concerns and engage meaningfully with discussions on how we can finance climate adaptation and decarbonisation on a global scale. We need to grasp the thorny issue of how best to compensate climate vulnerable countries for the loss and damage they are experiencing – despite contributing the least to climate impacts.
Our high historic emissions in the UK as the first country to industrialise and our current high per capita carbon emissions – especially when off-shore emissions are taken into account - mean there needs to be a far stronger equity dimension to our commitment to tackle climate change. The UK public understand the need to move faster than much of the rest of the world with polls consistently underlining the public's desire for the UK to show global leadership.
Why legislators matter
This year as we gather at COP27, our domestic legislative and policy programmes remain pivotal to our credibility as legislators in driving forward global action. Legislators in every country are key to securing a golden thread that links international commitment to effective national and local implementation.
Of course, every country has its unique challenges and will need to plot its own pathway in response to the climate crisis. Whether it is restoring mangroves and coral reefs in the Maldives as nature-based adaptation solutions or reducing energy demand and upgrading the energy efficiency of our leaky homes in colder northern climates.
But, crucially, progress will be determined not just by our national responses to climate change but also by how we support each other along the way.
Our role as legislators must be to argue, agitate and legislate for this change now – to protect and strengthen domestic and global collaboration and live up to our responsibilities to each other as a global community.
Baroness Helene Hayman is the Co-Chair of Peers for the Planet, which was launched in the House of Lords in January 2020 and brings together Members of the House of Lords who want to address the critical environmental threats of climate change and biodiversity loss. @Peers4Planet
The cross-party group is Co-Chaired by Baroness Helene Hayman, who used to oversee proceedings in the Lords as the Lord Speaker, and Baroness Bryony Worthington, who was the lead author of the UK Climate Change Act.