By invitation of the Government of Mexico and the Secretariat of the Convention on Biological Diversity (CBDS), on 7 December GLOBE International convened the CDB COP13 Legislators Forum as one of the official fora of the COP.
Legislators from 20 countries adopted the CBD COP13 Legislators Forum Communiqué calling for the integration of biodiversity into public policy. Click here to download the Communiqué.
National and local legislators from over 20 countries including Argentina, Cameroon, Colombia, Costa Rica, El Salvador, France, India, Italy, Japan, Kenya, Mexico, New Zealand, Nigeria and Senegal amd Taiwan participated in a 1-day programme focused on highlighting the imperative of biodiversity for a prosperous and sustainable world.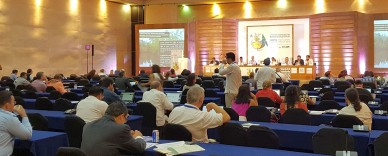 The Forum was opened by Mexico's Environment Secretary and COP13 President Rafael Pacchiano Alamán and Quintana Roo State Governor Carlos Joaquín González, followed by CBD Executive Secretary Dr. Braulio Ferreira de Souza Dias.
The Opening Segment gave way to a high-level Opening Panel chaired by Senadora Silvia Garza Galván (Mexico) which addressed the challenges and opportunities of integrating biodiversity as a transversal axis in the implementation of the UN 2030 Agenda for Sustainable Development. The panel included: Dr. Balakrishna Pisupati, Head of Biodiversity, Land and Governance Programme, Division of Environmental Law and Conventions, UN Environment Programme; Dr. Gustavo Fonseca, Director of Programs, Global Environment Facility (GEF); Senator Angélica Araujo (Mexico), Coordinator of the Parliamentary Meeting of the Global Platform for Disaster Risk Reduction 2017; Ms. Liliana López Ortiz, Focal Point of the United Nations International Strategy for Disaster Reduction (UNISDR) Parliamentary Initiative; Mr. Marcos Mancini, Head of Sustainability, Banorte Financial Group; and Ms. Malini Mehra FRSA, GLOBE International CEO.
Session 1, chaired by Deputy Viviane Le Dissez (France), received contributions from legislators from Cameroon, France and Mexico reporting on national experiences integrating biodiversity into water governance.
Session 2, chaired by Dr. Kennedy Graham MP (New Zealand), focused on the progress made in Mexico and Colombia integrating biodiversity mechanisms and objectives into forest governance with the support of the Japan Biodiversity Fund.
Session 3, chaired by Deputy Mariana Arámbula (Mexico), received contributions from parliamentary delegates from El Salvador and Japan on their respective national strategies for the integration of biodiversity into national productive sectors. 
Session 4, chaired by Deputy Mirza Flores (Mexico) focused on national experiences of legislators from Kenya, Senegal and Japan integrating biodiversity into disaster risk reduction policies.
In the Forum Communiqué legislators firstly welcomed that:
'(...) Governments, through ministers and others heads of delegations have adopted the Cancun Declaration on Mainstreaming the Conservation and Sustainable Use of Biodiversity for Well-Being and committed to its objectives.', with many of whose statements they concurred.
In addition they stated that:
'(...) Bearing in mind that conservation, sustainable use, and where necessary, restoration of ecosystems are needed for achieving disaster risk reduction, we note the relevance of the Sendai Framework for Disaster Risk Reduction in efforts to promote a holistic approach to mainstreaming biodiversity for the well-being of current and future generations.
Furthermore, we emphasise the important, and often neglected, role of women in biodiversity conservation and equitable use of natural resources, and the crucial need for gender aware and gender responsive policies and frameworks in addressing the biodiversity crisis by promoting women's active participation in problem-solving and decision-making on the issues.
We Pledge, as legislators in our national and sub-national parliaments, to:
Work with governments and other stakeholders to achieve the objectives of the Strategic Plan for Biodiversity 2011-2020 and the Aichi Targets, to
Use our constitutional powers of review, scrutiny, budget and law-making to hold governments to account in our national parliaments for their commitments made at this and related multilateral fora, to
Work tirelessly in our home parliaments and in partnership with stakeholders and legislators elsewhere, to promote a more coherent and convergent approach to governance, bearing in mind government's diverse international commitments on the broad sustainability agenda, encapsulated in Agenda 2030, and the imperative to break down silos and develop new more effective models of governance for sustainable development to meet the ambitious goals of the major summits of 2015 and Cancun's 2050 Vision of Living in Harmony with Nature.
We welcome the opportunity of the Global Platform for Disaster Risk Reduction 2017 (22-26 May, Cancun, Mexico), including the parliamentary meeting on 23 May, to further efforts recognising the links between disaster risk reduction, biodiversity, climate change and sustainable development.
In conclusion, we call upon the United Nations Biodiversity Conference, Cancun, Mexico, 2016, to take into account this Communiqué and the engagement of parliamentarians in its work. We also request the Parties to the Convention on Biological Diversity to call on its Secretariat to recognise the contributions that parliaments and legislators can make in the mainstreaming of biodiversity and, in particular, commend their role in ensuring transparency and democratic accountability in its concluding report to the Conference.'
The Communiqué is available in English and Spanish at the CBD COP13 website:
Download Spanish version (PDF)