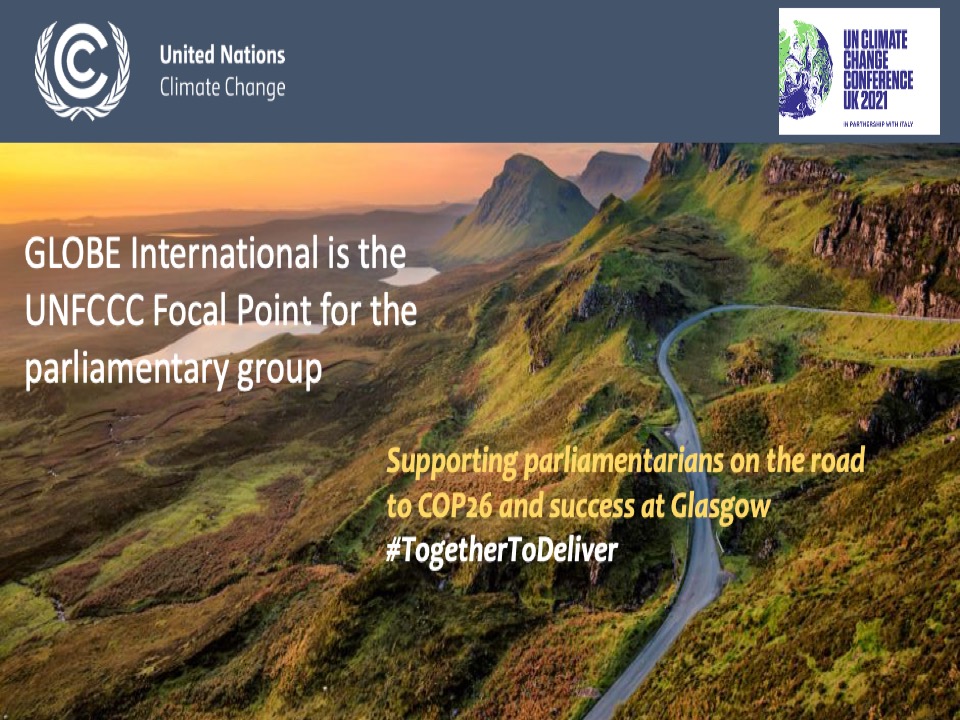 Click HERE to sign up for our COP26 Newsletter
GLOBE International is honored to have been designated as the UNFCCC Focal Point for the Parliamentary Group to facilitate the engagement of parliamentary networks and parliamentarians at COP26 and UNFCCC meetings. Parliamentarians are still not a formal constituency recognised by the United Nations, unlike the nine Major Groups established following the UN Earth Summit in 1992. GLOBE International was founded in 1992 by prominent legislators - including Al Gore and John Kerry (USA), Akiko Domoto (Japan), Nikolai Nikolaievich Vorontsov (Russia) and Francois Roelants du Vivier (Belgium) - to address precisely this shortcoming within the UN member state-based multilateral system, and bring the voice of elected representatives committed to climate action to the fore.
Since the Paris Agreement of 2015, however, parliamentarians have been recognised as an informal grouping and this paves the way to their greater recognition as key actors central to the delivery of the Paris Agreement and related international commitments. GLOBE International has taken the initiative to support this Parliamentary Group and provide administrative, information and coordination support to engage cross-party legislators at UNFCCC meetings and COPs. The founding members of the Parliamentary Group comprise Climate Parliament, Commonwealth Parliamentary Association, InterPares/ International IDEA, ParlAmericas and Westminster Foundation for Democracy.
Click HERE to sign up for our COP26 Newsletter
Membership of the Parliamentary Group is open to parliamentarians, parliamentary networks or organisations seeking to advance the aims of the UNFCCC and implementation of the Paris Agreement. We also work closely with the Local Government major group, which includes sub-national and regional legislators amongst their membership.
As Focal Point, GLOBE will provide regular updates and host webinars and information sessions on the road to COP26. During COP26 GLOBE will host daily morning coordination meetings for the Parliamentary Group, organise press conferences and support cross-party parliamentary engagement at COP26.
If you would like to join the Parliamentary Group, or for further information, please contact us at <focalpoint@globelegislators.org> 
Click HERE to sign up for our COP26 Newsletter
COP26 PROGRAMME